This year we received again a large selection of applications from European athletes. Since spots on the ASEA Europe Athletes Team are limited, we make sure that the athletes are coming from different areas and countries.
This year, we selected two new athletes. In addition to our long-time ASEA Athlete Álvaro Ibáñez Bringas, Alice Mille and Marc Støchkel have joined us this year. Here you can learn more about the three athletes.
Álvaro Ibáñez Bringas – Fencing, European U23 gold medalist
Competing Since: 2000
ASEA User Since: 2017
Favorite ASEA Product: ASEA
ASEA-Routine: "I drink ASEA before, during, and after training, and drink it when I wake up and before I go to sleep. I also use RENU 28 twice a day, morning and night. And I take ASEA VIA Source, LifeMax, and Biome three times a day!"
ASEA Experience
"Fencing is a sport in which a reaction of 2-tenths of a second can determine victory or defeat. The sport requires incredible focus, strength, and preparation, and demands extraordinary athletic abilities, both physically and mentally. With ASEA, I am able to train my body and mind to endure those demands and excel in the sport."
Born in Burgos, Spain, Álvaro is one of the most promising fencers in the international arena. He's been a member of the Spanish National Fencing Team since 2013, winning numerous medals in international competition.
In 2017, Álvaro became the only Spanish athlete to win all four major awards at the national level, winning the Spanish U23 Championship, Spanish Single Senior Championship, Spanish Teams Senior Championship, and the 2017 Spanish League.
He currently lives in Madrid at the High Performance Athletes Center where the national teams of Spain of multiple disciplines are permanently based. He is a big fan of the world of sports.
The Person Behind the Athlete
"In my day-to-day life, I combine my sports career with a marketing degree at the UCAM university."
Follow Him On Social Media
Instagram, Facebook and Twitter
Alice Mille – CrossFit and Weightlifting
Competing Since: 2013 in CrossFit and since 2017 in Weightlifting
Using ASEA Since: 2019
Alice Mille is an elite CrossFit athlete, competing as an individual athlete. She recently took first place at CrossFit Lowlands Throwdown Competition in the Netherlands. She also took first place in the Swedish Championship Weightlifting and was named the 75th most fit woman on earth at the Reebok CrossFit Games in 2019.
The Person Behind the Athlete
Alice graduated with a degree in sociology in 2018 and has been working in social services since graduating. Her focus is on children, young people, and young offenders. When she's not exercising or working, she likes to treat herself to good food and good times with her boyfriend, friends, and family. She also loves to travel and even her vacations are centered on competing. Her eye is on the future, and she is committed to doing everything she can to qualify for the CrossFit games 2020.
Follow Her On Social Media
Instagram, Facebook, YouTube and her Blog
Marc Støchkel – Triathlete
Years Competing: Started training in 2016, first official triathlon season in 2017
ASEA User Since: 2018
Favorite ASEA Product: RENU 28
ASEA Routine: 30 ml of ASEA per day combined with a great diet; RENU 28 daily, and before and after races.
ASEA Experience
"My experience with ASEA has exceeded my expectations. The first time I heard about ASEA, I would not have believed it, but now I know the product and I can say for sure: I will not do any of my training without ASEA. Super happy with being a part of such a dedicated and strong company."
"I'm 22 years old, race in triathlons, and am studying law at the University of Aarhus. Before competing in triathlons, I was riding motocross in the Danish elite field, but injuries kept me from going all the way. I searched for new challenges in triathlon and found my niche extremely fast in the sport. I'm motivated to push myself as far as possible, and I'm willing to sacrifice what it takes to push myself and the sport to its limits."
The Person Behind the Athlete
"As an athlete, I'm dedicated. This dedication defines my day-to-day life as well. I'm structured and train extremely hard, but I also like having some off time as well. When I'm not training and studying, I enjoy spending time with my girlfriend, friends, and my family, who are always there to support me – both in ups and downs."
Follow Him On Social Media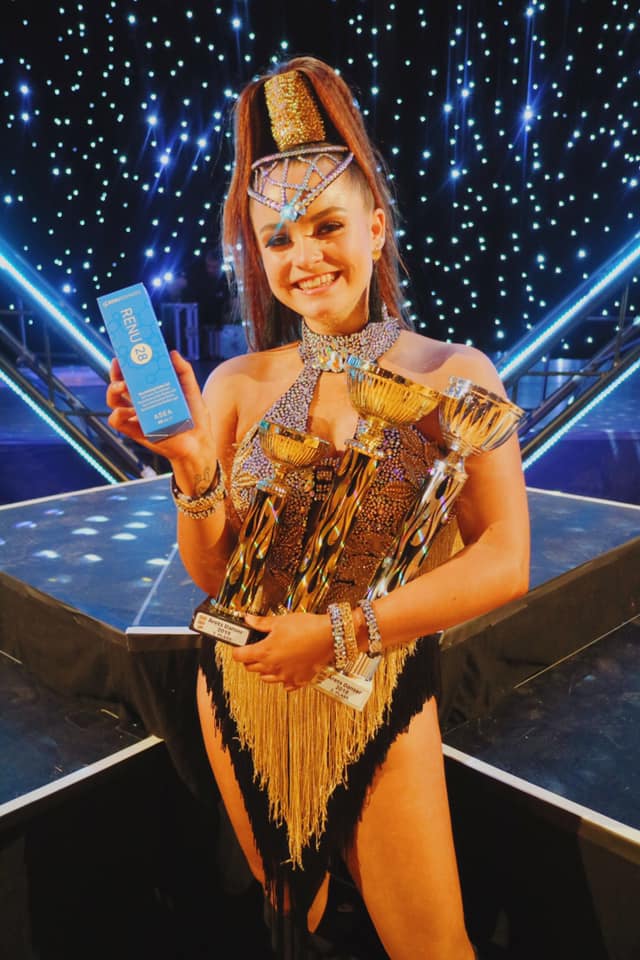 Unfortunately this year we also have to say goodbye to one of our long-standing ASEA Athletes – Ea Victoria N. Tefre, who has been a professional dancer for many years. She will end her successful career at the end of the year.
We would like to use the opportunity to thank her for the great cooperation.
We wish you all the best for your further life, Ea Victoria!