As a people business, the ASEA opportunity heavily emphasizes the idea of meeting and creating a community-like feeling. We no longer have to be confined to our houses and are forced to stay away from each other. Our social life took a turn, and even our businesses had to change to a remote setting. Here at ASEA Europe, we understand the difficulties this brought to everyone. That's why we are more than ever emphasizing that we offer meeting support for our European Associates. 
We understand that as an entrepreneur, showcasing the promise of ground-breaking products and hosting regular meetings with your team or prospects are essential needs. After all, having in-person meetings allows you to provide training, grow your business and create a sense of team spirit. With this in mind, we would like to encourage you to organize your meetings. We have compiled some guidelines for you to follow if you'd like to get meeting support from us. 
What exactly do we mean by meeting support?
You can qualify for financial and staff support if you adhere to the guidelines. The staff support varies from getting your Key Account Manager to attend your ASEA meeting to having our Regional Vice President attend! As well as the possibility of getting up to €500 for financial support. 
Have we caught your attention yet? Be sure to adhere to the following guidelines to qualify for meeting support: 
You need to publish your meeting on the ASEA Virtual Office calendar at least one week prior. How do you submit your meeting request to the official ASEA meetings calendar? Follow this path: Resources > Event Calendar > Add Event
Make sure you communicate your meeting to the ASEA Europe Sales Team with a one-week notice. You can do so by sending an email to Sales_EU@aseaglobal.com. Please include your name, the date of the event, and the expected number of attendees. 
After the meeting: Give us a list of the attendees with their signatures. Click here to get the list template. Please note that a minimum of 30% of the attendees must be new people, meaning that they need to be guests or new associates attending their first ASEA meeting. 
If you adhere to all these guidelines, you have the opportunity of receiving meeting support that offers: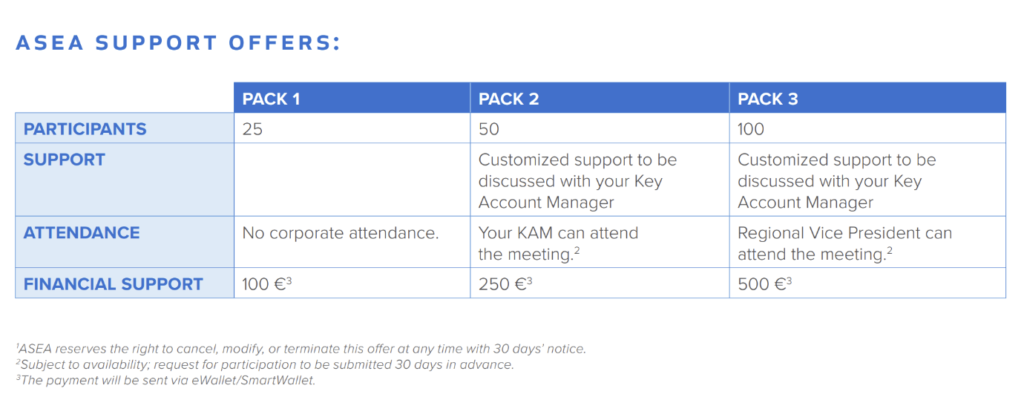 Some things to also keep in mind: 
Make sure your meeting venue is up to ASEA standards. We suggest hosting your ASEA meeting in a modern and professional location. If you live in the Munich area, you can use the ASEA Munich office for your meetings. (Subject to availability)
Don't know what to say in your meeting? No worries, we've got you. Check the tools in your Virtual Office for your country and use them for your meetings. 
Please stay compliant! While on your ASEA meeting, please do not: 
Make health claims.
Show health-realted before and after pictures
Make claims about earnings that are too good to be true.
Want to learn more? Check your Virtual Office or the following links to learn more about getting meeting support in your language: 
Chinese, Danish, English, French, German, Hungarian, Italian, Norwegian, Romanian, Spanish, and Swedish.