Four thousand miles (6600km) of Atlantic Ocean separate Cape Town, South Africa from Rio de Janeiro, Brazil. Your options for crossing are a 7–8-hour commercial flight, a 1–2-week luxury cruise, a 2–4-week yacht race, and a 3-month rowboat voyage.
That exact stretch of ocean also separates Braam Malherbe from his most recent mission to save the world. The option he's chosen? The 3-month rowboat voyage—which, by the way, is a theoretical timeline, since it's never actually been done before.
Using the links below, you can follow the ASEA-sponsored rowing voyage as it becomes reality amidst the Southern Atlantic's wind and waves:
The Man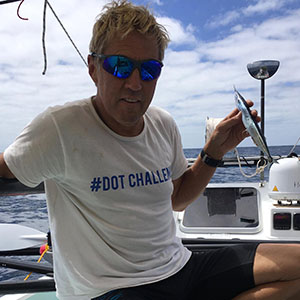 Braam Malherbe \'bräm, mɑl-'her-bə\ is an extreme adventurer, motivator, and conservationist with a track record that includes a 98-days-long run across the Great Wall of China and an unassisted 551-miles-long trek to the South Pole.
The motivation for those previous Herculean feats were powerful, personal, philanthropic causes. The driving force behind this oceanic voyage is something even larger, a challenge to save the planet—a challenge by the name of DOT.
The Mission
DOT stands for Do One Thing. It's the simple premise on which Braam has started a movement. As more and more individuals Do One Thing to conserve resources, we begin to reverse the past and present habits that have been harming our environment and draining the limited resources future generations are counting on. Small choices toward using renewable energy, running less water, creating less waste, and cutting out chemical products will be what make a difference on a large scale.
To take the DOT Challenge to a global scale and accelerate change, Braam envisioned a mobile app that would unite like-minded stewards to contribute ideas and spread small lifestyle adjustments—broadcasting progress as it happens, one thing at a time. As part of the undertaking to build, launch, and promote this mobile tool, Braam needed to find his next impossible feat.
The South African native didn't have to look far for a great candidate in the prestigious Cape2Rio yacht race, a grueling 4-week event that pits top yachting crews against the elements and against each other. For his own twist on the event, Braam would enter not a yacht but a two-person ocean rower; and though his boat would not allow him to compete against the yachting teams, he would certainly be going up against the elements at a distinct disadvantage.
The Team
To time and coordinate the crowdfunding and launch of the DOT Challenge app with the transatlantic row, Braam needed a dedicated team of developers, sponsors, and planning experts—not to mention an adventurer ready to co-pilot the months-long mission.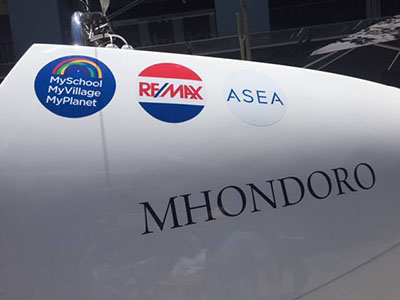 With a shared vision for the value of magnifying and multiplying individual efforts, ASEA proudly became one of the voyage's first platinum sponsors. We love and support Braam's ambition and work, and we couldn't be happier to see our logo on the hull of his world-changing watercraft as it breaks waves toward breaking wasteful habits.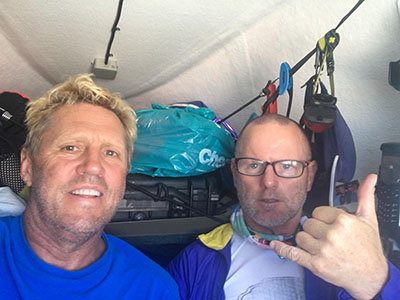 But perhaps the most vital member on Braam's team is rowing partner Wayne Robertson, who stepped in for Braam's original partner, Clyde Barendse, after unforeseeable obstacles threatened to capsize the mission before it ever left shore.
The Obstacles
After making painstaking plans to launch the DOT Challenge app on New Year's Day of 2017, the same day the Cape2Rio racers set sail, gale-force winds and on-shore swells kept Braam from beginning his row. What was planned to be a 72-hour delay was then extended by continued adverse weather, a wildfire near Braam's home, an illness to his rowing partner, and data transmission failures.
Marred by patience-testing challenges, January came and went—and February looked to bring more misery, as rowing partner Clyde Barendse was forced to withdraw from the expedition. Only after 37 days of delays came the opportune weather window that would afford an opportunity to break safely from the coastline. And thanks to Wayne Robertson's willingness to step in, the team took their first northwest pulls toward Rio on Tuesday, February 7, 2017.
A Dot on the Water
The DOT Challenge app, meanwhile, launched within days of the original plan, hitting both the Apple App and Google Play stores for devices running iOS and Android software.
Support Braam Malherbe and Wayne Robertson as they row from Cape Town to Rio de Janeiro by downloading the app, tracking the team's progress, sharing their journey, giving them encouragement on Facebook, and—of course—Doing One Thing!
The earth is a dot in the universe. We are dots on the earth… and it needs us to do one thing.