Right in the heart of the 55,000-hectare Pilanesberg National Park lies the luxurious Kwa Maritane Resort. Enjoy the perfect getaway on the slopes of an ancient volcano. Discover the majestic beauty of Africa and recharge after conquering the challenges of your business!
As you will see, this place is idyllic. Incredible bush walks, game drives, and a 150m tunnel specially built for the resort, which leads from the resort to the game viewing point, and much more.
Watch the following video to get a first impression of the Kwa Maritane Resort. We promise – This Is Africa!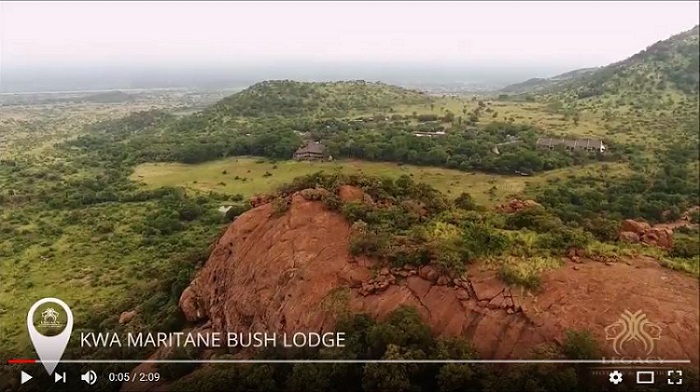 Can you already see yourself sitting around a campfire in the middle of this breathtaking African landscape, enjoying the fruits of your business success? This resort offers a wide range of services, which leaves nothing to be desired.
All your culinary wishes will be granted at the restaurant with its impressive indoor and outdoor area and the bar & lounge. Taste Africa's exquisite variety bite after bite.
Perhaps one of the most striking aspects of the resort is how it blends perfectly into the impressive landscape of Pilanesberg National Park. Each room is special and reflects the passion of Africa. The double rooms all come with a breathtaking view of the impressive nature. Besides, every room has an additional sofa bed, a luxurious bathroom, air conditioning, and much more.
Pamper yourself from head to toe after a day in the bush at the resort's spa. Whether it is a full-body massage with mountain aloe oil or a soothing, deep-cleanse facial treatment with warm volcanic milk – the professional therapists there will spoil you in any case. There is also a manicure and pedicure lounge, a rasul chamber, a relaxation area and a hydropool.
Continue your relaxation in the extensive pool area, then enjoy a typical African evening where culinary delights are served to you under the starry sky, with local music to round off a perfect day.
Are you determined to join us on the trip to South Africa? All you have to do is qualify for our T.I.A. (This Is Africa) promotion. Find out all important details here and then we'll meet soon under the South African sun.
Sien jou gou*!
**See you soon! (Afrikaans)