The "Audi Director´s Cut" is the place to be for stars and starlets at the kick-off of the Munich International Film Festival. Renowned directors present their new projects and the German film and media business comes together to network and party. In the center of attraction: the RENU 28 stand, where the 850 guests could take souvenir pictures and try out the sensational effect of RENU 28 on an actor´s billboard: the face.
RENU 28 installed a branded photobooth, which printed the photos and offered the opportunity to share the pictures directly on social media platforms, just as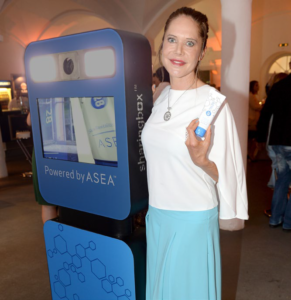 actor Tom Beck did. Of course, RENU 28 aroused the interest of female and male guests alike, who could take home a tube in the event´s goodie bags.
Also on site to spread the word and support General Manager Western Europe Jörg Höche and the Marketing team, supported by two charming promoters and actress and RENU 28 brand ambassador Doreen Dietel, who once again underlined her tie to ASEA with her elegant blue and white outfit. We are looking forward to a lot of VIP RENU 28 fans!