Christmas is almost here! High-profile RENU Advanced lovers dish about the presents they love and the presents they'd rather to return to Santa.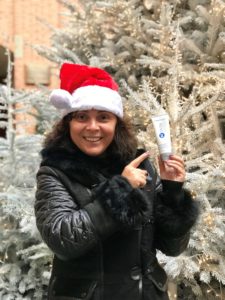 Olga Kotlytska
"As a travel journalist, I travel all over the world which is, of course interesting, but can also be exhausting. And so, I've come to love personal, relaxing vacations. Everyone knows I just can't get enough of them. So why hadn't anyone ever given me a vacation for Christmas? Last year, my husband gave our family a vacation to the French Riviera and it was lovely. It was such a surprise, and since it was my first trip where I didn't have to work, it became the best Christmas present I've ever received. Can anyone top that gift this year?"
"But, dear Father Christmas, please take the weight scale back, and please don't tell me who should give me that present. And tell the world – don't ever give anyone a weight scale for Christmas!"
Fashion designer Lola Paltinger is well-known as the pioneer of the couture Dirndl. Her couture creations are adored by hollywood stars, VIPs, and everyday beauties around the world.
"It's rare that we save the best presents for ourselves. And so, just before Christmas last year – as somewhat of a Christmas present – I bought a second little horse, a young, spirited Icelandic horse named Sjodur. I can ride him and so can the kids! All of us, including our dappled horse, Casper have lots of fun with him."
Michelle Monballijn is a prominent actress, but her greatest passion is being a mother. Michelle, currently pregnant, says,
"The best present is my belly! But beyond that, I love personal presents. So far, I've never received anything I would have liked to have returned. I'm always delighted with jewelry from my husband and mother."
Event expert and entrepreneur Udo Landow says, "during Christmas I can do without a lot of things. Since I lead a very healthy lifestyle I don't need candy or other treats.
But one thing I can't live without is my RENU Advanced set which contains top-of-the-line skin care products. And since I love them so much, I enjoy giving them to all of my friends and family. That way I know that I'll see lots of smiling faces on Christmas."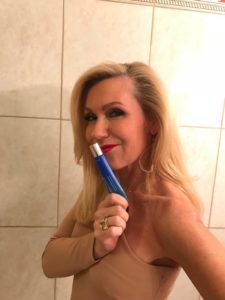 Daniela Sandvoss is an entrepreneur and founder of the business network "Weimarer Visionen." As organizer of the rewnowned "Brain & Soul", event series, she is a society giant and always up-to-date on international beauty trends.
The gift which brought Daniela Sandvoss the greatest joy was the birth of her son on the first advent, a joy that will last forever.
A less pleasant surprise? An ugly radio alarm clock.