The standard western diet lacks many key nutrients because of depleted soil and modern food processing.
Whole-food nutrients come naturally paired with their cofactors that increase absorption. This makes whole-food based vitamins and minerals superior to synthetic forms.
VIA Source isn't just chemical compounds that form the right nutrients. It's made from the whole foods that source the nutrients your body needs!
So just how much goodness did we cram into a daily serving of VIA Source? The answer just might surprise you.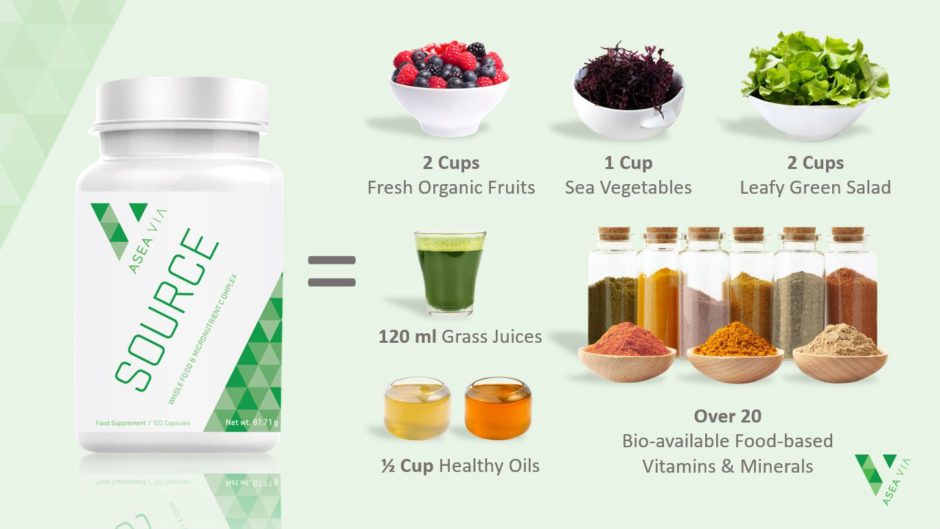 ORGANIC FRESH FRUITS – 2 CUPS
SEA VEGETABLES – 1 CUP
LEAFY GREENS – 2 CUPS
GRASS JUICES – 120 ml.
HEALTHY OILS – ½ CUP
BIOAVAILABLE FOOD-BASED VITAMINS AND MINERALS – 20+
And while you could get all of these nutrients from these very foods (assuming they are organic and grown in nutrient-dense soil), doing so would come with quite the price tag.
It would cost nearly €420.00* each month to purchase the proper quantity of foods that have the same nutritional value as a month of VIA Source. If you purchased all of the supplements in VIA Source individual, you'd pay nearly €145.00* each month!
With that considered, it's no wonder more and more people are switching to VIA Source for only €53.00 – 60.00** a month as their choice micronutrient complex! Are you ready to make the switch to whole-food supplement at an affordable price? Visit www.aseavia.com to learn more.
*Calculation reflects US markets popular product prices converted into EURO amounts. These references may vary based on available product scope and pricing in your market.
** incl. VAT, excl. shipping costs. Price varies due to different VAT rates across European markets. Pricing for European ASEA markets can be found in your Virtual Office.